Register for Next St. Matthew Scripture Study on "First Samuel: Establishing the Throne of David"
An epic journey through one of the most prominent books of the Old Testament!
Join our next scripture study on First Samuel. It will feature teaching videos of Fr. Jeffrey Kirby, who led our last parish mission. It is an 18-week course (19 including our first meeting), split into fall 2020 and spring 2021 sessions, with your choice of either Tuesday evening or Thursday morning online small-group meetings.
First Orientation Meeting, In-Person in Church: The first orientation meeting will be held in-person at St. Matthew Church on Tuesday, Sept. 15, at 7 p.m. This initial gathering will be in our church to allow for social distancing. Although you will choose Tuesdays at 7 p.m. or Thursdays at 9 a.m. for your online small-group meetings, this first meeting is for everyone who wants to participate in the study so you can purchase your book, learn how to watch the videos at home, and obtain other details. Please wear a mask, bring hand sanitizer, and maintain social distancing in church. Cost of the study's beautiful book is $40, payable by check at the meeting and made out to St. Matthew Church. Please note: Because of the book's cost, couples can get by sharing a book. If you do not wish to attend an in-person meeting, please contact study organizer Leslie Kerr (details below) to make arrangements for obtaining and paying for your book.
After the first meeting, the study will gather in small groups via online weekly meetings. The fall session runs for 9 online meetings and then breaks until Jan. 12 and 14.
First Samuel chronicles a pivotal period in the story of salvation history, when the era of the judges was coming to a close and Samuel, the last of the judges and the first prophet, becomes the instrument by which God transitions Israel from a confederation of tribes to a kingdom. The Throne of David is established as a new institution, one that would usher in the long-awaited Messiah, the anticipated Lord and Savior, ensuring he would be known and recognized when he came.
Watch this inspiring video description of the study by Fr. Kirby: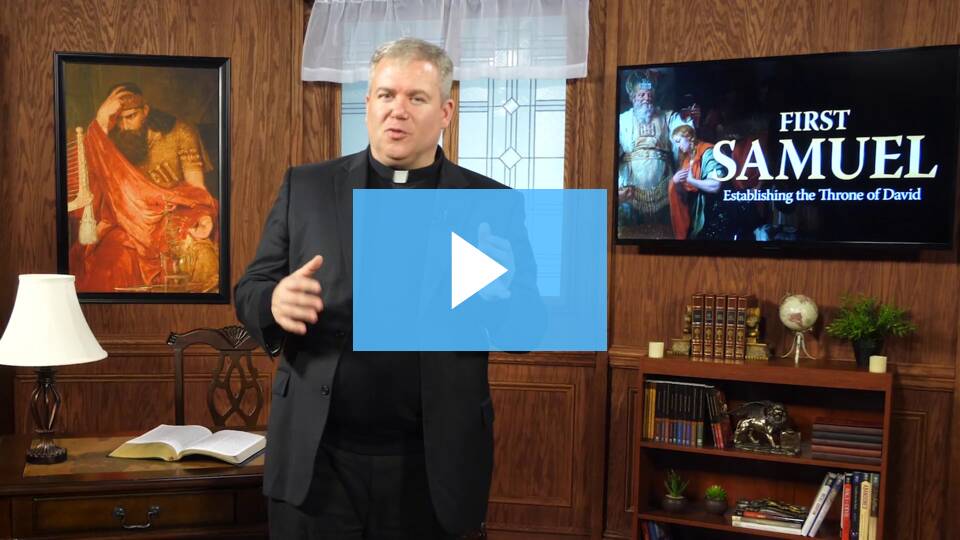 IMPORTANT: You must register for the study no later than Monday, Aug. 17. To register, or for questions, please contact Leslie Kerr at (501) 590-6673 or by email. There will not be a signup session or signup sheets in church.