You can download all of the Alumni Pages as a PDF Newsletter Here
Current and Future Warriors Need Your Support
Inaugural St. Matthew Alumni Appeal
Hopefully you feel as if you benefited from a St. Matthew education.  As you can imagine, costs continue to rise, but families' ability to match that is not always in line with that need.  This even as our teachers, dedicated as they are, make anywhere from $6,000-$32,000 less PER YEAR than some of their public school counterparts.   In order to try to bridge this gap, we have budgeted in the hope that our alumni and former parents will help.  This year we have budgeted a modest goal of just $5,000, just about the cost of tuition for one student.  We of course hope to raise much more than that, and with your help, we can.  There are two projects we would like to fund if we raise enough beyond the $5,000.  
 1) Our teachers have re-instituted an award based on character,
kindness, and Christian leadership.  We call this the "Outstanding
Warrior" award, and each grade has one winner per quarter.  We would
love to get a more permanent and nicer board in place.
2) Our Middle School also recognizes students for their efforts
beyond the classroom.  Parents can notify us, and the teachers put
together photos and blurbs about this.  We would also like to have a
more permanent and nicer board made and installed for this, as well.   
"It is so important to recognize the students beyond academics and athletics. The new boards would provide a special way to highlight the leadership and Christian values our kids demonstrate on a daily basis! "  – – – Colleen (O'Connor) Middleton, SMS Class of  2001 and current MS Science Teacher
If this walk down memory lane inspires you, please consider donating to St. Matthew Catholic School. Please contact us at 317-251-3997 for more information on needs.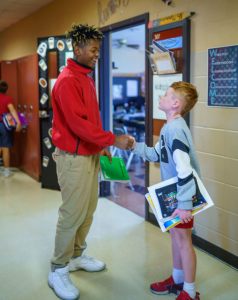 Beyond these two projects, a successful alumni appeal can also help bring down tuition costs for all current parents, making a St. Matthew education more affordable for current and future Warriors.  We will not harass you….this appeal is slated to come via email only and happen once a year.   If you are in a position to do so, we ask you to consider donating to your alma mater.  If not, we do ask all our alumni, parents, and friends and benefactors to remember St. Matthew in your prayers.
We ask you to forward this to former classmates and friends who may or may not have received this email…we are still in our infancy stages of creating a reliable database of email addresses.  We can also send our newsletters like this one each year to let you know what is happening at your alma mater.  We also offer you, as noted in this other article in this newsletter, the opportunity to take a tour and see what your old stomping grounds look like now, and/or to bring a flash drive and get a copy of your yearbook and class video, if we have it.   Thank you in advance for considering a donation to our Alumni Appeal.  If you have any questions, please feel free to contact me at dsmock@saintmatt.org