Mass and Reconciliation

MASSES SUSPENDED
Weekend Masses
Saturday: 5 p.m.
Sunday: 7:30 a.m., 9 a.m.*, noon
*9 a.m. Mass usually includes signing for the deaf, nursery, and children's Liturgy of the Word. Coffee and donuts usually in café afterward.
MASSES SUSPENDED
Weekday Masses
Tuesday-Friday: 8:30 a.m.
Wednesday: 6 p.m., followed by Adoration until 9 p.m.
COMMUNION SERVICES SUSPENDED
Communion Services
Monday-Friday: 7 a.m., 8 a.m.
NO SCHEDULED RECONCILIATION SERVICES
Mass Intentions
To have a Mass offered for someone, living or deceased, please stop by the parish office or call 317-257-4297. Mass offering is $10.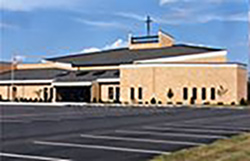 Join the Parish
Welcome! Click here to learn about joining Saint Matthew Parish. Also, stop by our Welcome Table in the narthex for information about Saint Matthew Church and School.
Saint Matthew Parish Stewardship
Answering the Call to Love and Serve

Answering the Call to Serve
Use your time and talent to make a difference at Saint Matthew Parish.

Answering the Call with Online Giving
Thank you for your financial support of our parish. Faith Direct is our online giving program. To enroll, visit www.faithdirect.net. Our church code is IN187.

Support Saint Matthew with SCRIP
Learn how SCRIP gift cards can help Saint Matthew and you!