Mass and Reconciliation

Our weekend Mass times are Saturday at 5 p.m. and Sunday at 7:30, 9:30, and 11:30 a.m. The 9:30 a.m. Mass is livestreamed. Mass dispensation continues until further notice.
Mass Attendance Guidelines: Please do not congregate in the narthex. Please wear masks. Please do not sit in blocked pews. Please do not sit in seats marked with blue tape. Please keep social distance of 6 feet at all times, when entering church, during Communion, when leaving church.
We  livestream Sunday Mass at 9:30 a.m. CLICK HERE for LIVESTREAMED SUNDAY MASS at 9:30 AM from St. Matthew Church.
Weekday Mass: We celebrate public weekday Mass on Tuesday/Thursday at 9 a.m. and on Wednesday/Friday at 8 a.m. We hold our school Masses on Wednesday/Friday at 9 a.m., but the public is not allowed at this Mass because of our no-visitor policy during school hours due to the coronavirus. There may be occasional exceptions to the weekday Mass schedule, so please consult the bulletin. Please wear a mask. The 9 a.m. Mass is livestreamed here.
Reconciliation is held in the Daily Mass Chapel every Saturday from 4 until 4:30 p.m. The church opens at 3 p.m. to allow for private prayer, meditation, and preparation for the Sacrament. Please wear a mask.
Mass Intentions
To have a Mass offered for someone, living or deceased, please call 317-257-4297. Mass offering is $10.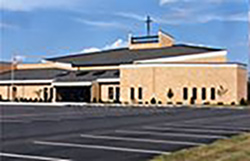 Join the Parish
Welcome! Click here to learn about joining Saint Matthew Parish. Also, stop by our Welcome Table in the narthex for information about Saint Matthew Church and School.
Saint Matthew Parish Stewardship
Answering the Call to Love and Serve

Answering the Call to Serve
Use your time and talent to make a difference at Saint Matthew Parish.

Answering the Call with Online Giving
Thank you for your financial support of our parish. Faith Direct is our online giving program. To enroll, visit www.faithdirect.net. Our church code is IN187.

Support Saint Matthew with SCRIP
Learn how SCRIP gift cards can help Saint Matthew and you!