Public celebration of weekend Masses has resumed. New Mass times are Saturday at 5 p.m. and Sunday at 8 a.m., 10 a.m., and noon to allow for sanitizing after each Mass. Note: 10 a.m. Mass usually includes signing for the deaf. Mass dispensation continues until Nov. 1.
Mass Attendance Guidelines: Please do not congregate in the narthex. Please wear masks. Please do not lower kneelers. Please do not sit in blocked pews. Please do not sit in seats marked with blue tape. Please keep social distance of 6 feet at all times, when entering church, during Communion, when leaving church.
We will continue to live-stream Sunday Mass at 10 a.m. CLICK HERE for LIVE-STREAMED SUNDAY MASS at 10 AM from St. Matthew Church.
Weekday Mass is celebrated at 9 a.m., Tuesday through Friday, in the main church for social distancing. Please wear masks and bring hand sanitizer. Click to view live-stream weekday Mass.
Reconciliation is held in the Daily Mass Chapel every Saturday from 4 until 4:30 p.m. The church opens at 3 p.m. to allow for private prayer, meditation, and preparation for the Sacrament. Please wear masks and bring hand sanitizer.
Mass Intentions
To have a Mass offered for someone, living or deceased, call 317-257-4297. Mass offering is $10.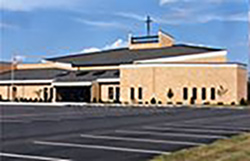 Join the Parish
Welcome! Click here to learn about joining Saint Matthew Parish. Or stop by our Welcome Table in the narthex for information about Saint Matthew Church and School.