Weekend Masses
Saturday: 5 p.m.
Sunday: 7:30 a.m., 9 a.m.*, noon
*9 a.m. Mass usually includes signing for the deaf, nursery, and children's Liturgy of the Word. Coffee and donuts usually in café afterward.
Weekday Masses
Tuesday-Friday: 8:30 a.m.
Wednesday: 6 p.m., followed by Adoration until 9 p.m.
Ash Wednesday, Feb. 26. Masses at 8:30 a.m. and 6 p.m. Adoration will follow the 6 p.m. Mass and close with Benediction, to end by 9 p.m.
Communion Services
Monday-Friday: 7 a.m., 8 a.m.
Sacrament of Reconciliation
Saturday: 4-4:30 p.m.
Or call the parish office for an appointment at 317-257-4297.
Mass Intentions
To have a Mass offered for someone, living or deceased, please stop by the parish office or call 317-257-4297. Mass offering is $10.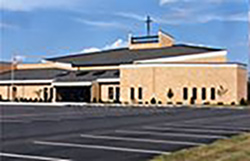 Join the Parish
Welcome! Click here to learn about joining Saint Matthew Parish. Or stop by our Welcome Table in the narthex for information about Saint Matthew Church and School.