Weekday Mass: We celebrate Mass on Tuesday through Friday at 9 a.m. Masks are strongly encouraged. The Mass is livestreamed here.
Reconciliation is held in the Daily Mass Chapel every Saturday from 4 until 4:30 p.m. The church opens at 3 p.m. to allow for private prayer, meditation, and preparation for the Sacrament. Masks are strongly encouraged.
Mass Intentions
To have a Mass offered for someone, living or deceased, call 317-257-4297. Mass offering is $10.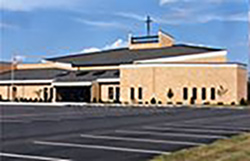 Join the Parish
Welcome! Click here to learn about joining Saint Matthew Parish. Or stop by our Welcome Table in the narthex for information about Saint Matthew Church and School.