Weekend Masses
Saturday at 5 p.m.
Sunday at 7:30, 9:30, and 11:30 a.m.
Weekday Mass:  Monday through Thursday at 8:30 a.m. and Wednesday at 6 p.m. Adoration follows the Wednesday evening Mass until 7:30 p.m.
Reconciliation: Saturday from 4 until 4:30 p.m.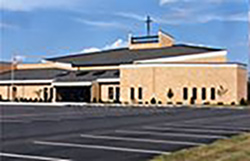 Join the Parish
Welcome! Click here to learn about joining Saint Matthew Parish. Or stop by our Welcome Table in the narthex for information about joining Saint Matthew.