Contact Us
4100 East 56th Street
Indianapolis, IN 46220-5599
Phone: 317-257-4297
Parish Office Hours
The parish office is closed to walk-ins. Parish office doors will remain locked for access by parish staff only. Parish staff members are available to parishioners by phone, email, or scheduled appointment. High-risk staff continue to work primarily from home with visits to the office for appointments or as necessary.
In an emergency, follow the after-hours instructions at the main Parish number: 317-257-4297.
Appointments
If you wish to meet with a particular staff member, we ask you to please make an appointment. Thank you.
Bulletin Submissions
Our bulletin deadline is Monday at 8 a.m. We have early deadlines around holidays. We encourage you to submit information as far in advance as possible for planning purposes and because of limited space. Submit your information to our bulletin editor.
Saint Matthew Catholic Church and School
4100 East 56th Street
Indianapolis, IN
46220-5599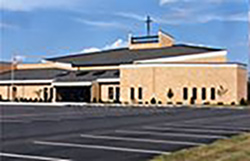 Join the Parish
Welcome! Click here to learn about joining Saint Matthew Parish. Or stop by our Welcome Table in the narthex for information about Saint Matthew Church and School.